1. Why?
Quite simply, because it has been my most fervent hope for far too long that the complete recorded works of CHRISTOPHER MILK be released in the digital format, whether that be a proper CD or a "hi-def" download. The most likely folks to pull off such a feat would be the kind folks at RHINO RECORDS.
As of July 15, 2014, this issue has, at least -- and at long last, been partially addressed. A 320kbps MP3 download of "Some People Will Drink Anything" has been released by Rhino/Warner Brothers and is being distributed by 7digital: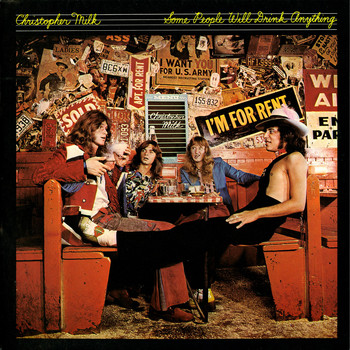 2. How?
Slowly, but surely, I shall be adding more to this site as my free time allows. I, of course, welcome any and all submissions relevant to the cause, including fond memories of live shows (especially dates and venues, as I am still working on the information gathering for the "LIVE APPEARANCES" section of this site) and other testimonials.
Of course, all are welcomed to forward anything that they would like to share and/or donate to the cause (especially the promo kit [bio and photo set] that promoted the release of "Some People Will Drink Anything"):
E-MAIL: mailto:glittermimp@christophermilk.com
SNAIL MAIL: C.M.A.S.; P.O. Box 1571; Sierra Madre CA 91025-1571
3. When?
As time allows. Sections that are still in the works include "LIVE APPEARANCES", "BIOGRAPHIES", "PRESS" (both the laudatory and the lame, the sunshine and the rain), "LINKS", and "EPHEMERA" (inclusive of both the directly and tangentially related informations).
More to come -- thanks in advance for your patience!